Delvin and Chelsea strike a pose on our National Stadium's track.
PHOTO: MICHAEL GOETOMO OF HEY STRANGER PHOTOGRAPHY, DELVIN GOH AND CHELSEA ANN SIM
A professional basketball player, Delvin Goh represents Singapore in the ASEAN Basketball League as part of the Singapore Slingers. Delvin and the Singapore Slingers have been training at the OCBC Arena since it opened in 2015.
"There are three basketball courts here, so there will usually be people playing basketball at the other courts beside us when we train. People of all ages come here to play."
Delvin reveals that he first met his future wife, Chelsea Ann Sim, in the Athlete's Corner of the Singapore Sports Institute. Chelsea too is a decorated athlete in her own right – she is a SEA Games medallist in taekwondo.
"Chelsea was getting a massage when I walked into the Athlete's Corner. The funny thing is, we have both been national athletes since we were 14 or 15 years old, participated in many SEA Games and stayed in the same hotels, but we had never met each other before that day," Delvin shares.
He feels that he and Chelsea began dating because they clicked very well. "I think both of us are very easygoing and are very understanding towards each other's commitments. Our conversations are easy and smooth. We don't have to force anything. I feel comfortable and happy around her."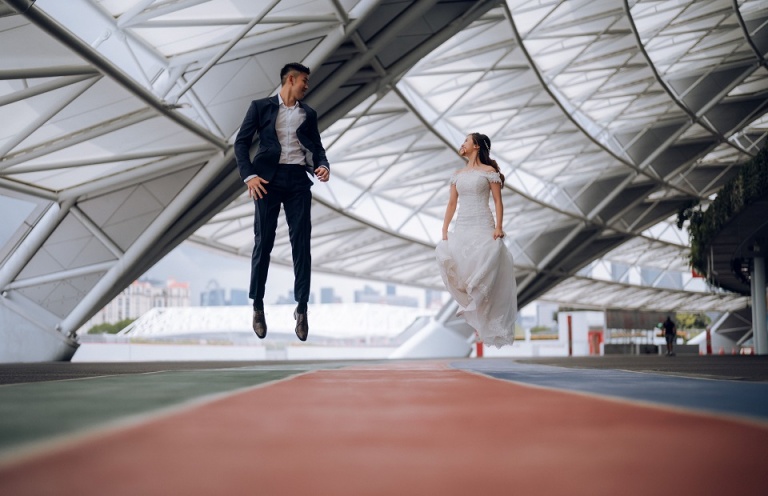 This connection between the two prompted Delvin to propose to Chelsea. As part of his proposal efforts, Delvin booked a suite in Sentosa, and arranged a video and photo shoot around Sentosa.
"I am still very impressed and touched when I watch that video, so please check it out on my Instagram account, @delvingoh!"
"As we are both national athletes, we feel that Singapore Sports Hub is a place that means a lot to us," discloses Delvin. "I want to lead a happy life with Chelsea, start a family, continue my basketball journey and start a business! Most importantly, I hope we will both stay healthy."