Avid off-road rider Sarwani Sahir loves introducing newbies to her beloved sport.
PHOTO: SARWANI SAHIR AND FAB MOTOR VISUALS
The mild-mannered Library Manager of the Sports Hub Library, Sarwani Sahir spends her free time navigating rocky troughs and pedalling up steep inclines.
By day, Sarwani oversees the operations of this specialised library, which is a treasure trove of information on topics like health and fitness, coaching, sports history and a wide range of sports. Her challenge is to keep the
Sports Hub Library enticing – she helps organise new campaigns and activities for this library every month, which have included chess competitions, camps for kids within the library, meet-and-greet sessions and workshops with athletes of different disciplines, and exhibitions with themes like the SEA Games and sports photography.
After hours, Sarwani indulges in a different sort of challenge – she loves mountain biking, which she feels is not a dangerous sport, contrary to what most people think.
"Mountain biking is a rugged sport that requires discipline," she remarks. "It involves cycling through mud, dry land and different types of roads. Along our routes, we also face obstacles like stones, jumps, climbs and drops."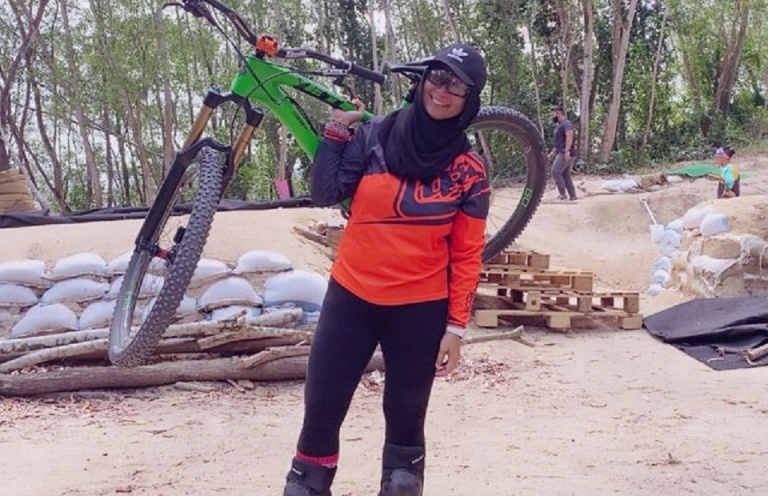 "It's important for new riders to read up on the mechanics of off-road bicycles and good riding technique. It's not the bike, but the rider. A good rider knows which techniques, gears and bike components will help him or her overcome different terrains and obstacles," shares Sarwani, who professes that she is addicted to the adrenaline rush that comes with her high-octane sport. Even experienced riders will fall occasionally, but when Sarwani falls, she says that she just picks herself up.
"My husband's friends are surprised when I don't ask for any help and bring myself to the doctor," she remarks with a laugh.
Sarwani was introduced to this racy pastime by her father when she was 20. Before Singapore had this many manicured nature parks, Sarwani recalls soaking in her father's wealth of knowledge on off-road cycling, as they explored the great and uncharted outdoors.
As Sarwani progressed in her career and married life, cycling took a backseat. When Covid-19 travel restrictions were imposed and Sarwani felt cooped up, her husband suggested to her to explore Singapore on her mountain bike.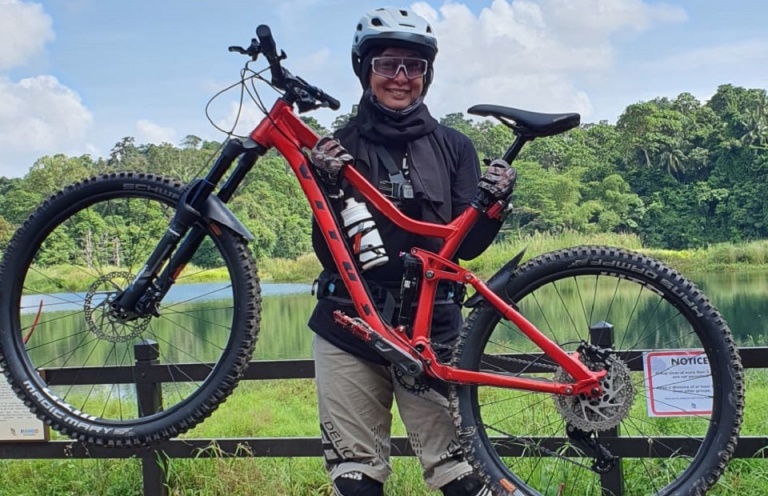 Today, she has a new bicycle she calls "chilli padi", which she says has performed surprisingly well even in challenging environments like the Ketam Mountain Bike Park in Pulau Ubin, which is known for its steep slopes. Besides riding with her friends, Sarwani shares that she likes guiding riders on trails and teaching them good technique, as she has always enjoyed volunteering and giving back to her community.
"Mountain biking isn't dangerous if you equip yourself with the right knowledge," says the middle-aged Library Manager. "If you're rugged, you might like mountain biking, but if you like leisurely sports, try trail riding. I like popular trails like the Ketam Mountain Bike Park, Chestnut Nature Park, T15, Bukit Timah Nature Park and the Park Connector Network."
She reveals that she no longer pushes herself as hard as she used to in her younger biking days, but instead indulges in 'recovery rides' often, which help her relieve stress and act as therapy for her muscles. She discloses that she has lost as much as 10 kilogrammes over the course of two months of mountain biking. If you're keen to give this sport a try, Sarwani recommends joining cycling interest groups on social media, as there are many groups suited to different types of cycling that offer good advice on equipment, technique and trails.