Photos by Singapore Sports Hub
As August approaches, it's nearly time to celebrate Singapore's 58th birthday! Organised by Singapore Sports Hub and SportsSG, in support of GetActive! Singapore, this first-ever Majulah Fiesta will feature a calendar packed with entertainment and fun starting from 29 July at the Singapore Sports Hub.
Kick off the festivities with an array of engaging games and activities leading up to National Day. The wide assortment of activities will promise something for everyone to participate in and soak up the majulah spirit of this joyous occasion. Let's come together to honour and celebrate our beloved nation!
The theme for this year is "Onward As One", and it calls upon Singaporeans to look forward confidently as we build our shared future as one united people.
To celebrate the nation's birthday through sport, GetActive! Singapore is back with a bang with a slew of activities catering to just about everyone in the family. From dance battles, fitness workouts, to skateboarding clinics, and even a Seniors' Sports Day; you're going to want to bring the kids and grandparents down for a celebration like no other!
On 7 and 8 August, watch out for a slew of fringe programmes and workshops that include caricature drawing, tote bag painting, scratch art and wax melting that families and friends can enjoy at the OCBC Square. Put away your gadgets and get into some old school fun by playing carnival games such as tic tac toe, pick up sticks and the aeroplane toss! 
As Singaporeans, we know that there's no celebration complete without food. With food kiosks galore, you won't be hungry. Live stations will serve warm meals while you can also satisfy your cravings with delectable titbits such as popcorn and kachang putih that will be perfect for your picnic. Old school snacks from our yonder years will also be available to tantalise your tastebuds. Flush all that down with a refreshing gulp of coconut water or an ice-cold slushie to beat the heat.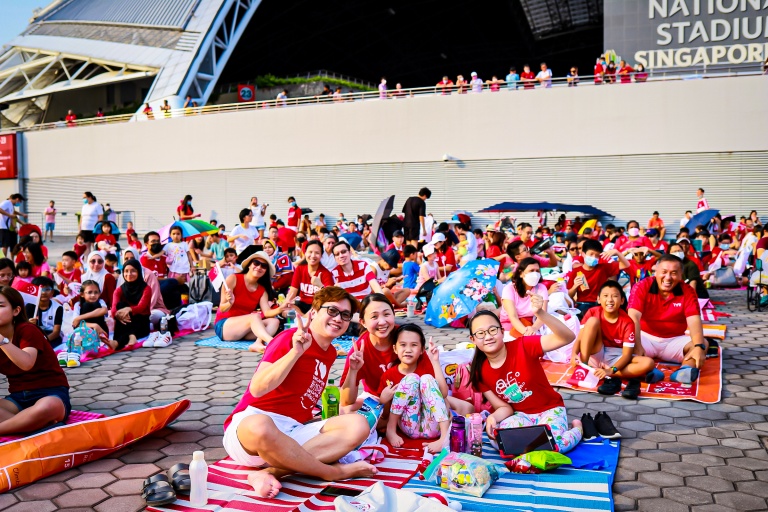 Come 9 August, there will be no lack of activities as well! Begin the day fresh and packed with adrenalin from the Majulah Fiesta Fitness Party at various locations in Singapore Sports Hub, before nestling at a comfortable spot while live band The Passerby serenade you for the afternoon. Their repertoire of traditional songs will set you up for the live screening of the National Day Parade.
Broadcast at two venues, Sports Hub will have plenty of space for you and your friends and family to picnic at! Choose between the OCBC Square or Stadium Roar, and you will be treated to a wide-screen display and state-of-the-art sound system to feel like you're at the actual parade. Catch Sports Hub's very own Live Fireworks Display right after!
There's no better way to revel in the spirit of our nation than by immersing yourself in the festivities and activities planned to celebrate National Day at the Singapore Sports Hub. Let's make merry 'onward as one'!