If you've ever dressed your kids in infant-sized football jerseys or taught them to kick a football the minute they could walk, the live telecast of World Cup 2022 is another opportunity like no other for family bonding over the beautiful game.
For fun-filled, community-oriented live screenings of World Cup 2022, head down to the OCBC Square at Singapore Sports Hub to catch the quarter-finals (11pm on 9 and 10 December), semi-finals (3am on 14 and 15 December), third place match (11pm on 17 December) and the grand final (11pm on 18 December).
Besides the viewing party, football fans will be treated to entertainment and      contests with prizes to be won prior to the matches, as well as during half-time – making the occasion memorable for every member of your family (even those who still can't figure out the offside rule). Feeling peckish? Snacks are drinks will be available during the screenings.
If you still need another reason for heading down to Singapore Sports Hub to watch World Cup 2022, we've got five more to share.

Watch the matches on a large LED screen
The World Cup 2022 deserves a truly cinematic experience and Singapore Sports Hub offers just that. Enjoy the thrills, spills and heart-stopping moments when you catch the matches on a large LED screen. And no more squinting at the backs of players' jerseys to figure out their names.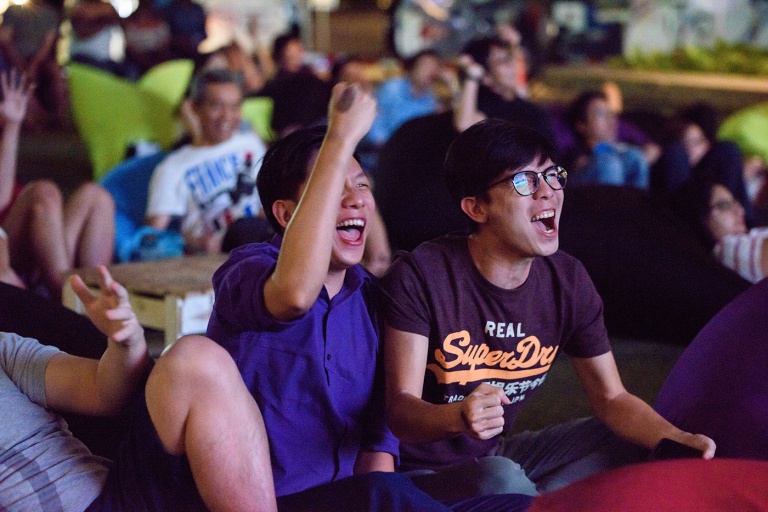 Cheer alongside other fans
Even if you shout loud enough to wake up the neighbours, cheering alone at home doesn't quite have the same impact as when you do it with fellow fans. Join us at Singapore Sports Hub because the highs and lows of a game are all better experienced in the company of other football lovers.
Have a ball of a time
Singapore Sports Hub knows how to throw a screening party that's fun for all ages. With an array of pre-match and half-time activities, both adults and kids will be entertained even when the matches are not ongoing. Want to take a World Cup keepsake selfie that's Instagram-worthy? Look out for the giant official World Cup 2022 match ball on display – the perfect backdrop for everyone to strike a pose against. There are also opportunities to win attractive prizes by taking part in audience games. Best of all? The party atmosphere comes at no extra charge.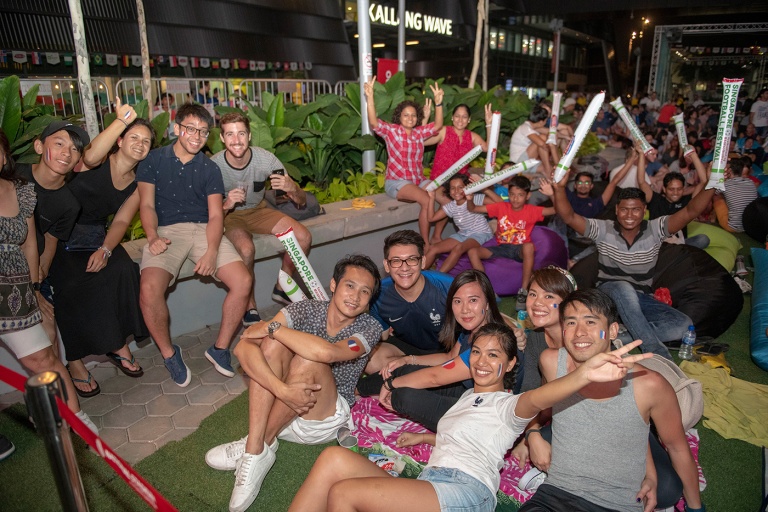 Meet local football heroes
Singapore Sports Hub will be inviting some ex-national players for pre-game engagement. Fans will also be treated to demonstrations by freestyle footballers, whose dazzling display of ball tricks and acrobatics will keep energy levels high before the third place play-off.
Friends and family, all are welcome
The live screenings at Singapore Sports Hub is an inclusive event, open to everyone. Arrange for an unforgettable night out with your buddies, or make memories to last a lifetime with your children. The World Cup is all about coming together once every four years to celebrate the beautiful game of football.
Here are some tips to make your World Cup 2022 live viewings at Singapore Sports Hub a memorable and comfortable one.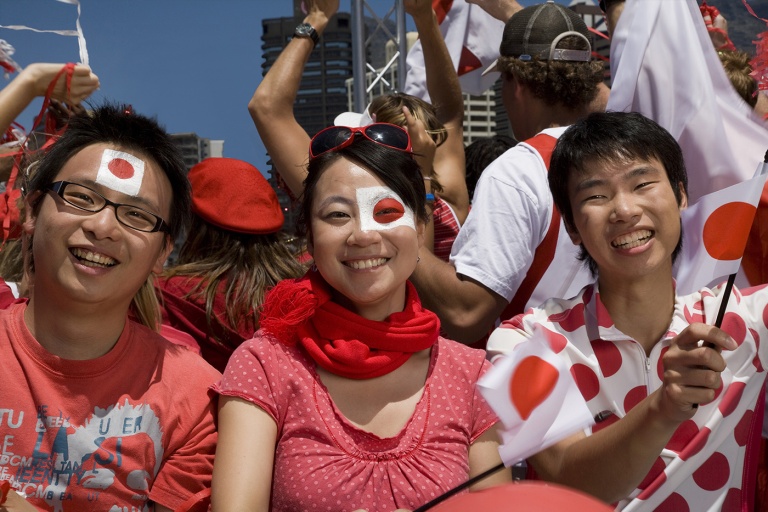 Come early
Early bird gets the worm – or in this case, the best spots in the house for a clear and near view of the screen.
Coordinate outfits and more
Whether you're doing it for the 'gram or for fun's sake, coordinating outfits with fellow attendees will make for a fun night out. Put on your jersey, wave your chosen team's scarf, or just ask everyone whom you're going with to wear team colours. Don't forget to tag us on Instagram @sgsportshub or #LetsGoSportsHub and #MySgSportsHub on social media!
Bring your own mat and more
Find a strategic spot with a good view, rent a bean bag and you're good to go. For sleepy young ones who don't make it past half-time, bring a blanket, a small pillow and earplugs so they can nap comfortably amid the noise. Wet wipes, tissues, water bottles and a power bank for your phone will all come in handy.
Relax and make new friends
Worried that no one else is supporting your team? Or have no one to watch the games with? Come on down anyway – the lively atmosphere of a world-class sports event will work its magic. Cheer with gusto, strike up a conversation and you just might find yourself some newfound friends among fellow fans.