Unlike types of cancer that are common among adults, cancers that are common among children are not largely influenced by environmental factors.
PHOTO: LOVE, NILS
International Childhood Cancer Awareness Month is commemorated every September. Childhood cancer comes in many forms and not many of us know enough about it. In this article, Here to Play sheds light on childhood cancer and how all of us can help this worthy cause.
"In Singapore, around 120 new cases of childhood cancer are diagnosed in children under 15 years of age, every year," shares Lesli Berggren, Founder and Executive Director of LOVE, NILS, an organisation set up to support young brave cancer fighters and their caregivers during their cancer journey.
"The most common cancers are: Leukaemia (35%), brain tumours (20%), lymphoma (10%), retinoblastoma (7%), Wilm's tumour (6%), neuroblastoma (5%), bone tumours (5%) and germ cell tumours (5%), among other types of cancers. Common adult cancers like lung cancer and colon cancer are very rare in children. Globally, around 400,000 children and adolescents younger than 19 years old are diagnosed with cancer. Unlike cancer in adults, the vast majority of childhood cancers do not have a known cause. Many studies have sought to identify the causes of childhood cancer, but very few cancers in children are caused by environmental exposure or lifestyle factors. Hence, it is a disease that can afflict anyone, really."
Nils, who was Lesli's son, was diagnosed with stage 4 lymphoma cancer at the age of 13. She spent a year and a half navigating her son's cancer, in and out of hospitals in Singapore and Seattle. Nils eventually beat cancer, but unfortunately succumbed later on to complications arising from a stem cell transplant.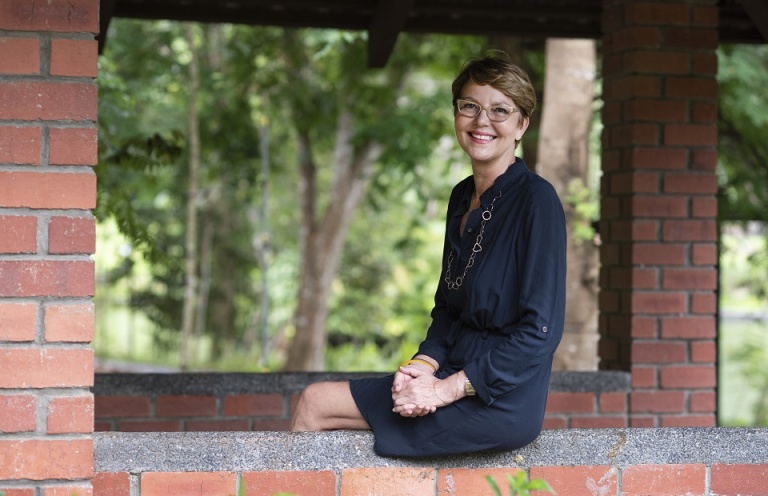 Lesli emphasises that the World Health Organization has stated that it is generally not possible to prevent cancer in children and that the most effective strategy is to reduce the burden of cancer in children instead and obtain improved outcomes. This can be achieved by focusing on prompt, correct diagnosis followed by effective, evidence-based therapies with customised supportive care.
"Every bit of community intervention helps – whether it is through volunteering efforts or donations. At LOVE, NILS, we provide emotional, social and community support to young cancer patients and caregivers. We guide them through the healthcare system, provide professional therapies, community support and more! As a registered charity with IPC (Institution of a Public Character), our goal is to be there for them before, during and after treatment, every step of the way," she shares.
"Most of all, I want you to know that you're not alone," is Lesli's message to anyone who is going through a similar ordeal.
Singapore Sports Hub will be lighting up the National Stadium dome in glittering gold sparkles on 9th, 18th and 19th September in support of International Childhood Cancer Awareness Month.
This is in conjunction with a campaign that LOVE, NILS is holding this September called Shine A Light, which aims to shine a light on the importance of support for children with cancer and their families. Members of the public can take part in Shine A Light by lighting up your home with gold-coloured lights, which is the colour theme of this campaign. You can also deploy the Shine A Light Facebook frame on social media, and create and share relevant images with the hashtags #lovenils1 and #CCAM. Most of all, you are encouraged to give generously to this cause.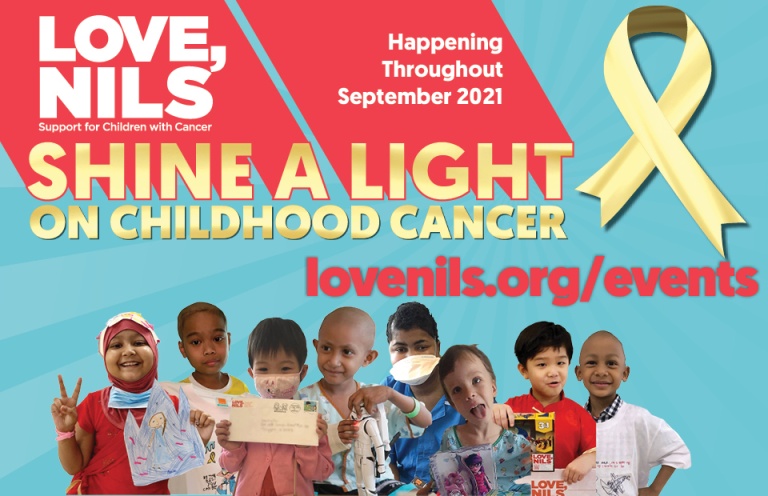 There's also the Singapore Cancer Society Race Against Cancer 2021, happening from 18th to 26th September 2021. You can sign up for this virtual race here, which aims to raise funds for cancer treatment subsidies, welfare assistance, cancer rehabilitation, hospice care, cancer screenings, research, public education and cancer support group initiatives.