Photos by Singapore Sports Hub
The Singapore Sports Hub is known to be a haven for athletes and those who like to get their adrenalin pumping through sports and fitness activities. It is no surprise that it is a meeting point for grown-ups to meet and sweat it out at the various facilities. There is no reason the young-uns have to be left out of the fun, and there is plenty for them to explore at the Singapore Sports Hub too! Whether it is to master a new skill, expand their social squad or discover nuggets of educational treasures, the Singapore Sports Hub has a variety of activities and areas that will keep kids fully entertained.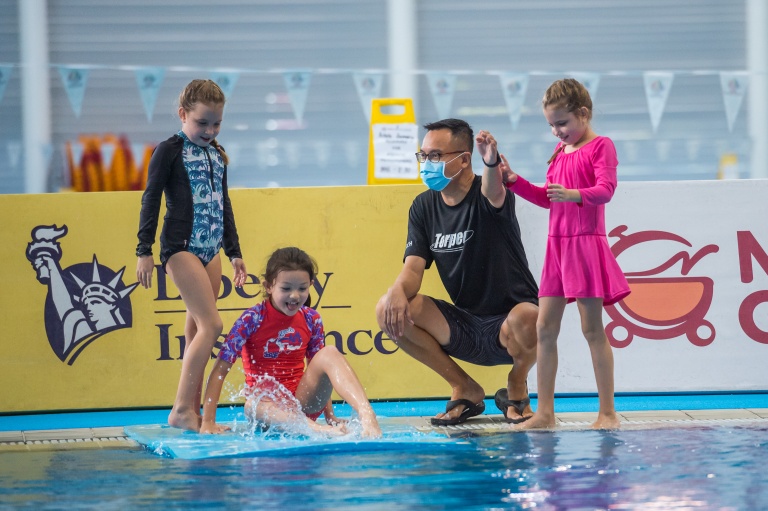 WAVES OF FUN
Big fun with little splashes
It's never too late to pick up on one of life's most essential skills – swimming! Lessons are available for all levels, from toddlers to pre-teens. Choose from learning in a group or having a dedicated private instructor for individualised attention and lessons at your convenience. Kids Learn to Swim programmes range from Bubbles (suitable for pre-schoolers), Beginner, Intermediate to Advanced levels, coaching them to develop water survival skills and building them up towards fitness endurance and healthy living. All courses are conducted by our programme partner Torpedo, an established swim school with a squad of professional trainers. Read more about the classes here.
Creating art with swimming
Swimming can be artistic too! Under the Introduction to Artistic Swimming programme, children will grasp basic sculling actions, eggbeater and various body positions to stay on the surface. Led by Gold Medallist Crystal Yap, she builds students up in strength and stability while using rhythm and form to achieve a mesmerising blend of dance, basic acrobatics and sheer aquatic prowess. Unleash your artistic flair here today!
Dive into adventure
Diving is like writing poetry in mid-air, when a fleeting moment of gravity-defying elegance captures the hearts of many. Children can start to hone their diving techniques from as early as 6 years of age, through the Learn to Dive Programme.
The learn to dive programme is conducted by certified diving coaches and aligned with the Singapore Aquatics national diving awards programme. Coaches will impart basic diving skills to the little ones, teaching them to dive in safely before moving on to mastering twists, somersaults on the five-metre platform. This programme builds up the foundation for aspiring divers who are interested to take their diving skills to the competitive level. Sign up here.
School's out, camp's in!
If you're looking for a splashing fun time this coming school holidays, the Aquatics Holiday Camp is the answer. Suitable for participants aged 6 to 12 years old can expect days of enjoyment in and out of the water as they learn the fundamentals of diving and strengthen their swimming prowess. Training sessions will include dryland strengthening and lessons on technical skills before they get wet and wild in the pools. Look forward to having fun with fellow camp mates and make new friends! The next camp on the roster is on 6 October, 10am to 12pm and on 16, 17, 18 October 2023, 10am to 12pm. Sign up now!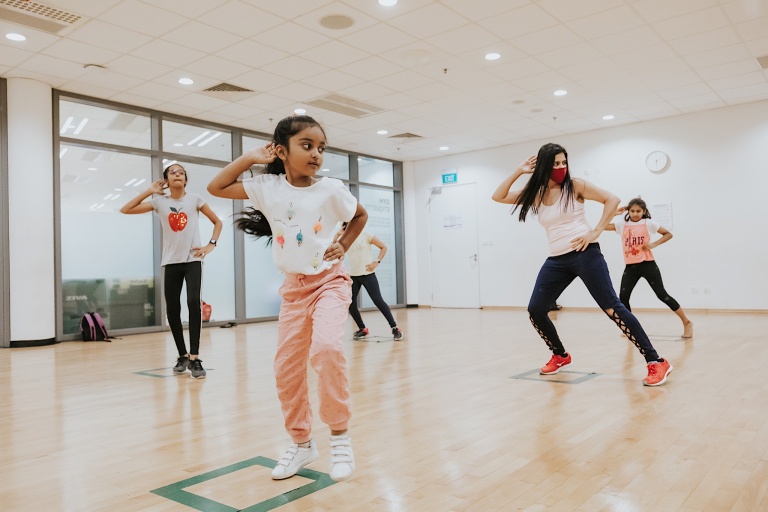 FUN WITH MOVEMENT
Dance, dance baby
Kids as young as 3 years old are welcome to groove and giggle while they let their rhythm and boundless imagination flow. Dancing is a great way to develop your toddler or pre-schooler in their motor skills and flexibility. Let the maestro train your kiddos into dance sensations! Learn more about the classes here. 
Balls of fun
Get on the court where teamwork, strategy and lightning-fast reflexes unite. Afterschool Netball is where beginners or seasoned players can come together to grasp the fundamentals of the game and have friendly matches together. Players can participate in carnivals, leagues and friendly games from the netball community. Join the fast-paced action and experience the exhilaration of netball here! Suitable for age 7 to 12.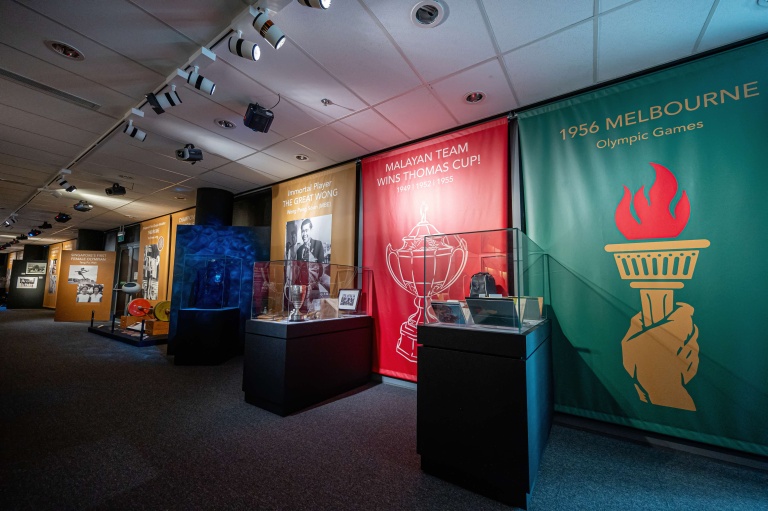 TIME FOR EDUTAINMENT
The Singapore Sports Hub also celebrates and commemorates history and heritage of sports! The Singapore Sports Museum houses information on Singapore's sporting legends, featuring interactive displays accompanied by curated items of rare artefacts and memorabilia that bring their stories to life. Be captivated by the rich history of our sporting heroes and catch our temporary exhibition Beginning of a Golden Age of Sport in Singapore (Late 1940s to 1950s).  This exhibition will take you on a journey through time and immerse you in the heart-pounding moments that have sculpted Singapore's sporting legacy. Find out more about the museum here. 
Kids, what are you waiting for? 
From thrilling aquatic adventures to inspiring exhibits that celebrate the nation's sporting history, the Singapore Sports Hub is bursting with experiences that will enthral the younger crowd. So parents, gear up for an exciting ride of fun, learning and bonding, and get ready to watch those smiles stretch from ear to ear as your little ones discover a world of activities designed just for them!