(Photos by Singapore Sports Hub)
Nobody is ever too old to play. Whether a loved one or you are from the Pioneer Generation or Merdeka Generation, just turning 60 or in your 50s, there is something for seniors to do at the Singapore Sports Hub. Here are some fun-filled activities that you can consider:
Play a game of lawn ball
Lawn ball is all about fun, precision and having a good time. It is a great low-impact sport, perfect for those looking for physical activities that are kind to the joints. Find out more about this easy, senior-friendly ball activity here.
Enjoy a concert
Bring your spouse on a date by catching local Mandopop artistes (in Sing. 浪, the finale concert to Singapore Chinese Cultural Centre's 5th year anniversary celebrations) or balladeers Air Supply, both at the Singapore Indoor Stadium. If you prefer your music hard and loud, have a rocking good time with your buddies, children or even grandchildren at the Guns N' Roses gig.
Read a good book
Visit the Sports Hub Library, which carries myriad titles on sports, health and fitness, arts and culture, and biographies. Research has shown that reading helps seniors improve capabilities such as memory, cognition and attention span.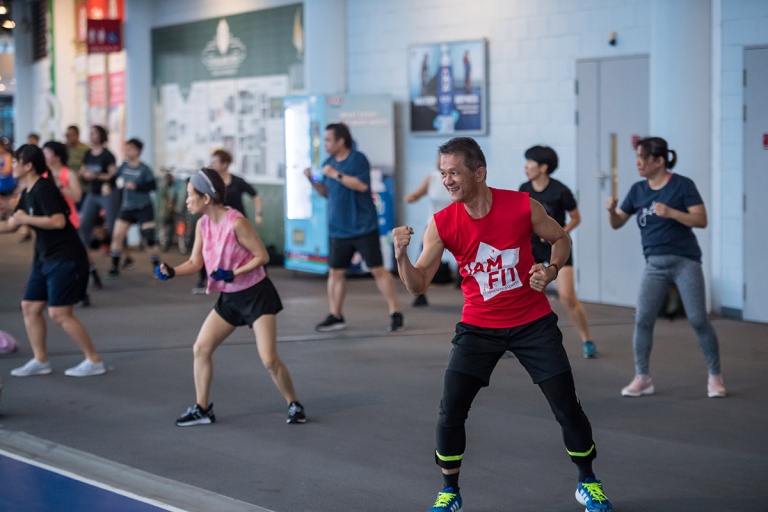 Seniors are welcomed to join Singapore Sports Hub's free Experience Sports Sessions.
Keep moving to stay fit
Sign up for the free Experience Sports Sessions conducted by trained fitness instructors. Group workouts such as the "International Remix – Dance Storm" class are suitable for people of all fitness levels. There are also various exercise and fitness stations around Singapore Sports Hub where you can use any time, any day.
Challenge someone to chess
Exercise your brain in a round of chess with your loved ones on a giant chessboard. Playing chess boasts many health benefits, including improving your focus and protecting against dementia. Do note that you have to book your slot at least seven days in advance.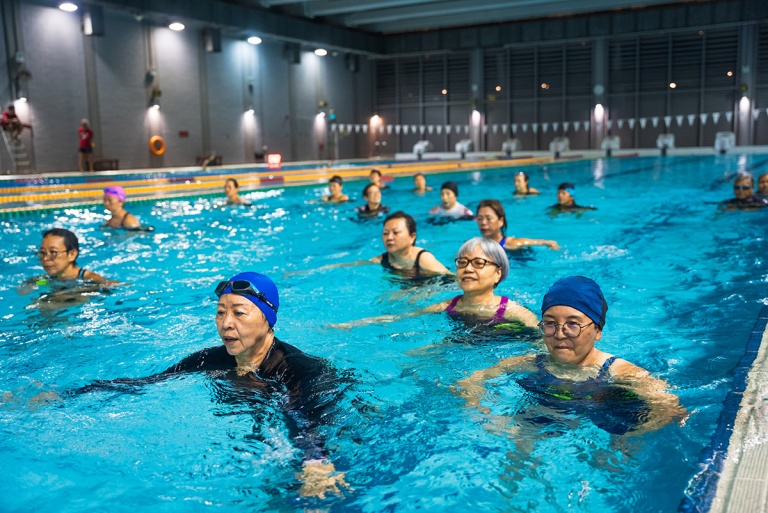 Swim or enjoy aqua fitness classes at OCBC Aquatic Centre's eight-lane Training Pool.
Go for a swim
The indoor pools at the OCBC Aquatic Centre are open rain or shine. Swimming improves cardiovascular health and endurance, which makes the heart stronger. For variety, you can join senior-friendly aqua fitness classes, such as Aqua Fit and Deepwater Aqua.
Meet your kakis
Trade stories and catch up with each other over a meal at one of the many eateries at Kallang Wave Mall, or while strolling on a self-guided tour along the Sports, Arts and Heritage Trail.
Age is but a number and play is for everyone. We can't wait to see you have a good time at Singapore Sports Hub!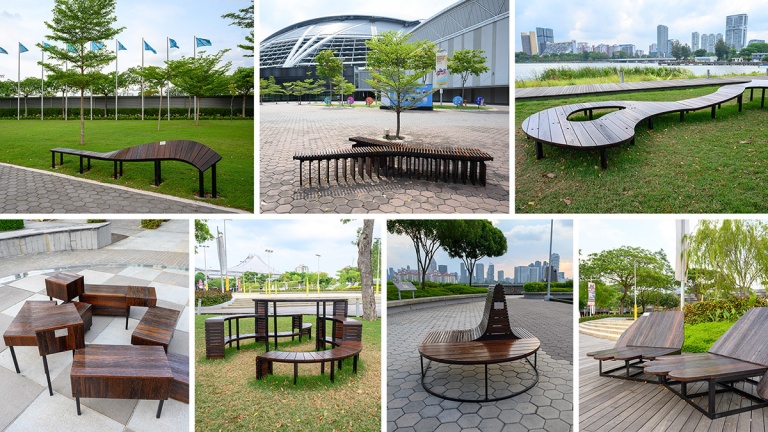 There are numerous photogenic locations around Singapore Sports Hub. Here are some of the most popular spots among visitors:
Re:Bench (above). The installation features 14 uniquely-designed benches made from the timber seats in the old National Stadium. Challenge yourself to locate them and then get creative with your poses.
Replicas of the Merdeka Lions. The original statues, which are now permanently standing the SAFTI Military Institute, were part of the Merdeka Bridge built in 1955 andare often regarded as a symbol of Singapore's independence as a nation.
100PLUS Promenade. With its striking colours, the 888-metre-long running track is one of the most-loved photo locations at Singapore Sports Hub
Along the Kallang Basin. This is the perfect spot to frame Singapore's city skyline. You might catch rowers paddling away in their kayaks, canoes and dragon boats in your photos.
Tanjong Rhu Lookout Tower. Make your way up the four-storey structure for breath-taking views of the sunrise or sunset.
Need tips on how to take better shots for your social media accounts? Check our guide on taking Instagram photos like a pro.