(Photos by Singapore Sports Hub)
SPORTS HUB HARD COURTS
Fancy yourself the next LeBron James or Stephen Curry, or just enjoy shooting hoops on a weekend? Head down to the Sports Hub Hard Courts, located on Level 3 of the 100PLUS Promenade near National Stadium Gate 13. The refreshed hard courts are equipped with official National Basketball Association (NBA)-sized hoops, measuring 46 centimetres in diameter, by leading outdoor fitness equipment manufacturer KOMPAN.
Prefer a different ball game? The new court line paintings ensure that selected courts can be switched for netball or futsal use. The basketball posts are also manufactured with movable steel components that add to the ease of reconfiguration.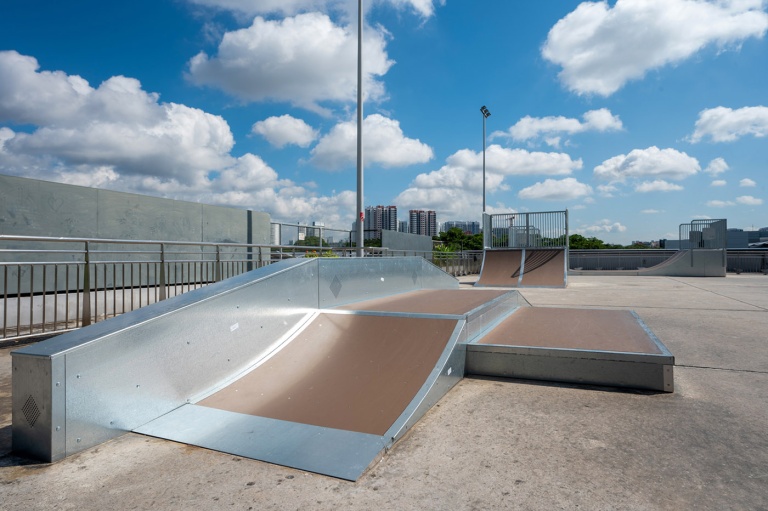 SKATE PARK
With skateboarding making its Olympic debut in Tokyo 2020, aspiring Olympians can practice their moves at the revamped Skate Park. Located near Gate 15 of the National Stadium, it features ramps by skate equipment manufacturer Rhino Skatepark. These surfaces are installed with heavy-duty, hot galvanised safety rails with vertical solid bars to contain flying skateboards.
Skateboarders can perform their tricks on mini ramps, half-pipes, grind rails and a combination fun-box with ramps and steps. Adding to the excitement, many of the ramps are equipped with a 3-millimetre-thick steel tube to grind on. All ramps also feature the non-absorbent RHINOTOP riding surface for the perfect grip. Even if you slip or slide, it won't burn your skin, allowing you to get back on the board for more. In short, everything you need to emulate top skateboarders like Nyjah Huston or Leticia Bufoni.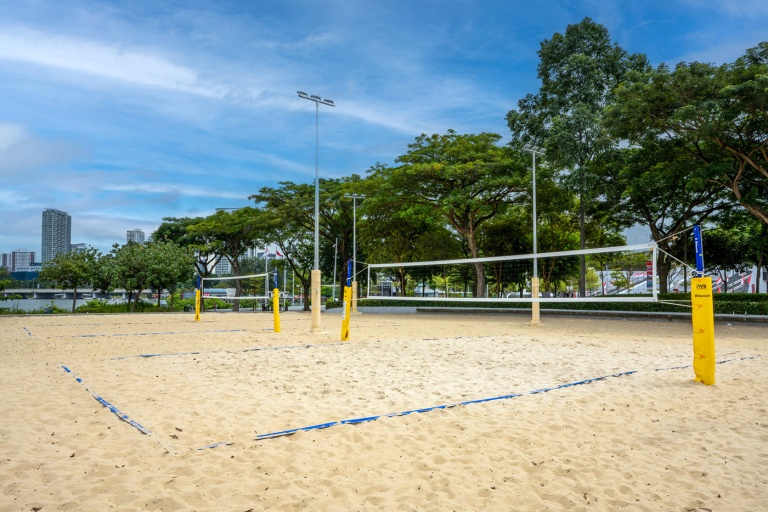 SPORTS HUB BEACH VOLLEYBALL COURTS
You don't have to be at a beach to play beach volleyball; the centrally-located Singapore Sports Hub has a dedicated area with two courts for the sport. Its Beach Volleyball System underwent an upgrade, with the newly-installed structure officially approved for use by the game's global governing body, the Fédération Internationale de Volleyball. Designed and made by Japanese sports equipment maker Senoh, the posts are highly durable — dust-, water- and rust-proof — with easy height adjustment. Such is its quality, the system has been used in past Olympic Games.
EXERCISE & FITNESS STATIONS
To revamp the Exercise & Fitness Stations into spaces that everyone can use, Singapore Sports Hub called upon equipment manufacturer KOMPAN to create fitness corners that rate high on both accessibility and utility.
Seniors and those undergoing health rehabilitation can benefit from the equipment that are designed to increase the functional capacity needed to perform basic daily activities. Many of the equipment are wheelchair accessible. For those who prefer a simpler workout, there is a newly-painted track for brisk walking or jogging.
While all Free To Play Facilities are available daily between 7am to 10pm, be sure to check for venue closure dates and make an online booking if one is needed.
PLAY NICE WITH OTHERS
Popular facilities tend to get crowded, especially during peak periods like weekends. Here are some tips on how to get the most out of your free to play facility experience.
#1: BOOK EARLY
If you've rounded up the team, don't wait until the last minute to secure the court. You can reserve slots with up to a week's notice on the Singapore Sports Hub website. If plans fall through and you can't fulfil the booking, cancel it so that others can have their chance.
#2: STAY PROTECTED
Always make time to warm up and stretch before plunging into your game. In addition, if you're attempting ollies at the Skate Park, wear full protective gear and a helmet for your own safety.
#3: BE COURTEOUS
Don't litter in the venue, and don't overrun your booking slot — especially if others are waiting. If you've moved the equipment around, shift it back into place before leaving.
#4: STICK TO THE SPORT
Taking a break is fine, but if you're not using the facility for its intended sport, go elsewhere so others can use it. In addition, do note that the Skate Park is only for in-line skating and skateboarding purposes.
Read more about the conditions of entry here.