(Photos courtesy of Bianka Panova Sport and Art Academy)
You do not have to know how to twirl a ribbon while balancing on one foot to appreciate the appeal of rhythmic gymnastics. Also known as modern gymnastics, the women-only sport made its Olympics debut in 1984 and has become popular for its expressive, graceful movement influenced by ballet, dance and acrobatics. Unlike, say, artistic gymnasts who compete on apparatus such as the uneven bars, vault or pommel horse, rhythmic gymnasts use handheld apparatus such as a ball, ribbon, hoop and clubs to perform choreographed routines set to music, either as an individual in a solo routine or in groups of five competing in two different routines.
Nine-time Rhythmic Gymnastics world champion Bianka Panova, who is also the Co-Founder and Artistic Director of Bianka Panova Sport and Art Academy (BPA), is organising the Singapore International Rhythmic Gymnastics Cup 2022 (SIRGC) in collaboration with Sport Singapore. Scheduled to be held from 16 to 18 December at the OCBC Arena, it aims to shine a brighter spotlight on the sport and its practitioners here.
The Cup marks the first-ever rhythmic gymnastics event at the Singapore Sports Hub, and will feature competitors from around the world, as well as performances, talks and special showcases by the Tokyo 2020 Olympic gold medallist rhythmic gymnastics team from Bulgaria.
Bianka shares with Here to Play her love for the sport and highlights what to look out for at the Singapore International Rhythmic Gymnastics Cup 2022.
Moving to the rhythm of a lifelong passion
Bianka, who hails from Bulgaria, says that rhythmic gymnasts have grown exponentially in Singapore in the last few years. "Compared to the 2015 National Championships, which had 70 rhythmic gymnasts competing, this year's competition saw almost 600 gymnasts. More parents and children are willing to try the sport after being inspired by performances in the Olympics and by Singaporean athletes who compete overseas."
A former Olympian herself, Bianka arrived in Singapore in 2015 on the invitation of her friend Daniela Michaely, who is the Founder and Managing Director of BPA. Bianka immediately fell in love with the city, recounting how she is inspired by how Singapore and its people had achieved so much in so little time. "This mentality of bold progress, courage, dedication, confidence and resilience in the face of challenges is key," she says. "I saw that the youth of Singapore can truly benefit from rhythmic gymnastics, and the application of these values as a source of alternative education to unlock their potential."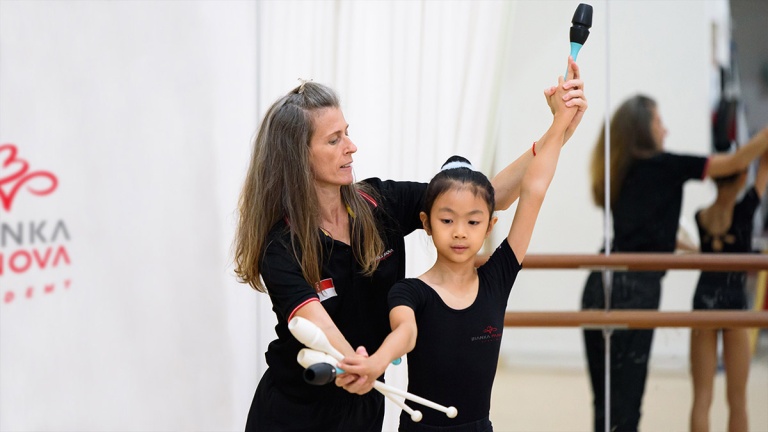 "My great wish is to see the young local gymnasts flourish and find passion and love for the sport. I believe in the youth of Singapore!" – Bianka Panova, champion rhythmic gymnast and Co-Founder and Artistic Director of Bianka Panova Sport and Art Academy.
A blend of aesthetic and physical qualities
A fervent believer in the power of rhythmic gymnastics, Bianka reels off the long-term benefits of practising the sport: "Flexibility, strength, coordination, grace and proper posture, as well as the building of good habits."
Rhythmic gymnastics also requires a high level of intellectual concentration. Bianka points out that there are over 100 movements per routine, and rhythmic gymnasts must memorise, interpret and execute four different choreographies in a segment. This must be done while handling one of four different apparatuses to the beat of music, and showcasing one's grace and artistry.
The mental benefits of practising rhythmic gymnastics are enormous. They include enhanced attention, mental sharpness and efficiency for multi-tasking, increase in neural connections for complex movements, and developing optimal function even under stressful or demanding environments. "Rhythmic gymnastics also provides character building and sportsmanship values, encourages independence, improves interpersonal skills, boosts resilience, and so much more," Bianka adds.
Bianka recommends that practitioners start their training at an early age, so that correct habits in the sport can be more easily established and injuries prevented: "The younger you start, the better. Many of the gymnasts at BPA have just turned four years old; and the gymnasts who have trained the longest are now members of the Singapore National Squad and turning 15 or 16 years old."
For those who are a little older, it is not too late to pursue rhythmic gymnastics recreationally. Bianka says that adults can also be enriched by the coordination, boosted agility, enhanced confidence and other benefits of the sport.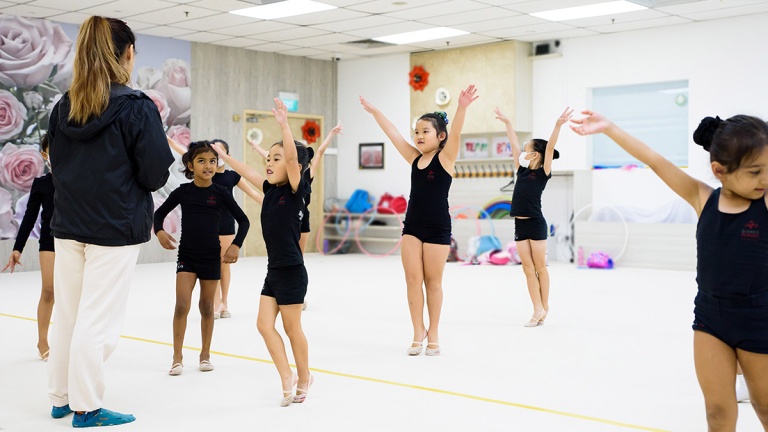 The Singapore International Rhythmic Gymnastics Cup 2022 includes a competition category featuring contestants as young as seven years old.
Best of the best
The Singapore International Rhythmic Gymnastics Cup 2022 marks the first time that the 2020 Tokyo Olympics gold medallist Bulgarian team will be performing in Singapore. "They will present a special showcase at the opening ceremony on 17 December and the closing ceremony on 18 December, as well as host a master class for the development of youth in Singapore," says Bianka, "We will also arrange special meet-and-greet sessions."
Besides adult gymnasts, the Cup's competitions – which follow the International Gymnastics Federation (FIG) technical rules and standards, and judged by a panel that includes FIG representatives – will include categories for participants as young as seven years old.
In competitive rhythmic gymnastics, athletes compete to earn the highest score in the Individual Apparatus event, as well as the highest cumulative score in their age category, known as Individual All-Around Apparatus. "This score is formed by three groups of judges who evaluate the routine by awarding and deducting points for artistry, execution, apparatus difficulty and body difficulty," Bianka explains. "There are also line and time judges who deduct points for movements outside the carpet and movements beyond the set routine time of one minute and 30 seconds."
Offering a big "thank you" for the support from Sport SG, Singapore Sports Hub and all the parties, companies and sponsors who are willing to invest in the youth of Singapore, Bianka says, "Without this big hall at the OCBC Arena, we would not be able to invite such great gymnasts as the Bulgarian gold medallists, the Israeli European champions and so many other elite world gymnasts to attend this event."
The 8 disciplines of gymnastics
Did you know that besides rhythmic gymnastics, parkour is one of the sporting disciplines governed by FIG? Parkour is the practice of traversing obstacles through running, vaulting, jumping, climbing, rolling and other movements, in order to travel from one point to another in the quickest way possible without the use of equipment.
Men's artistic gymnastics showcases the strength of participants in six events: floor exercise, pommel horse, vault, still rings, horizontal bar and parallel bars; while women's artistic gymnastics focuses on agility, power and artistry on four apparatus — the balance beam, uneven bars, vault and floor exercise.
Trampoline gymnastics sees practitioners catapulting themselves up to 10 meters and beyond in height on a trampoline; while acrobatic gymnastics is about teamwork, with groups of gymnasts performing routines that include somersaults, throws and human pyramids. Aerobic gymnastics combines basic aerobics exercise sequences with gymnastic elements such as lifts and transitions.
Last but not least, gymnastics for all is the foundational level of the sport, and is accessible to everyone – no matter the age, gender, fitness level and ability.