December is a month of giving – not just by showering our loved ones with Christmas presents, but also by doing our part for the community. One way we can do that this festive season is by taking part in SportCares' 10th Year Anniversary Hearts Trail.
SportCares is the philanthropic arm of Sport Singapore that uses sport as a force for good. SportCares' broad array of programming for vulnerable children and youth includes activities involving sports like athletics, swimming and football, as well as leadership and skill development programmes, bursaries and volunteer opportunities that drive social connectedness. SportCares also organises activities for persons with disabilities, allowing them to explore and enjoy sports in an engaging, inclusive environment.
As part of SportCares' 10th anniversary this year, it celebrates a decade of changing lives through sport with a specially-curated walking trail.
TAKE A HEARTFELT JOURNEY OF CARE
The 10th Year Anniversary Hearts Trail encourages participants to "Walk for Good". The 10 locations featured in the trail — including the Kallang Squash and Tennis Centre, OCBC Aquatic Centre and OCBC Arena, which in 2017 hosted the first-ever Inclusive Sports Festival organised by SportCares — are found in and around Singapore Sports Hub. This gives participants the opportunity to explore the area, as well as learn about SportCares' programmes and the communities it helps.
From now to 31 December 2022, participants earn supermarket vouchers when they complete the 10th Year Anniversary Hearts Trail. The rewards are passed on to organisations enrolled in SportCares programmes, such as those that serve at-risk youth and people with disabilities. They will then distribute the donations to their beneficiaries.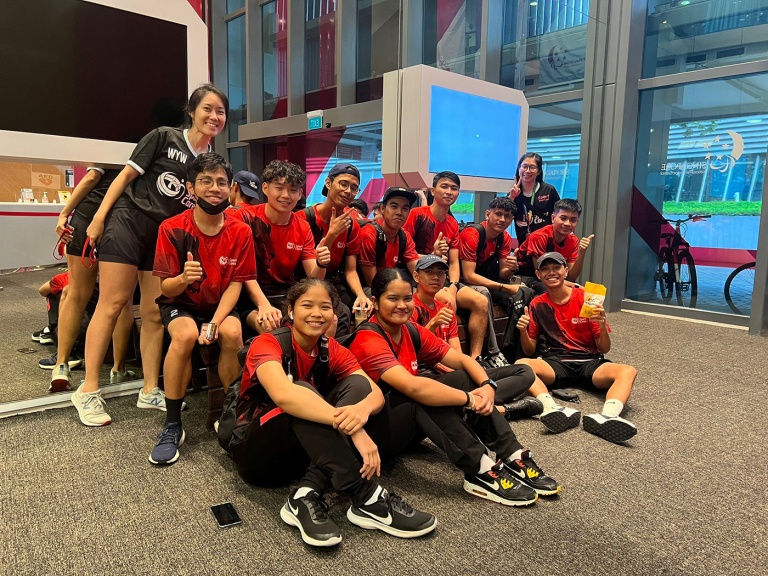 Seah Rui Heng (top row, 3rd from right) and fellow SportCares Youth Champions, who took part in the 10th Year Anniversary Hearts Trail. Photo by SportCares.
Seah Rui Heng, a second-year student pursuing a Diploma in Sports Coaching at Republic Polytechnic, embarked on the 10th Year Anniversary Hearts Trail with fellow SportCares Youth Champions on a weekend in November. He enjoyed the experience despite encountering a heavy downpour during his walk. "This is a good way for everyone to explore Singapore Sports Hub," he said. "The trail was designed to be enjoyed by all regardless of age, and the hints were very clear to help us find the QR codes. We managed to complete the trail by supporting each other and braving the rain!"
The 18-year-old added that he found the trail's integration of exercise and doing good to be especially meaningful. "Sport and exercise are platforms where strangers can come together for the same reasons — to stay healthy, have fun and compete with each other. Through walking this trail, it also allows us to understand more about the people we are helping and appreciate their backgrounds."
GET YOUR GAME ON
To take part in the 10th Year Anniversary Hearts Trail and donate your reward to those in need, here's what you should do: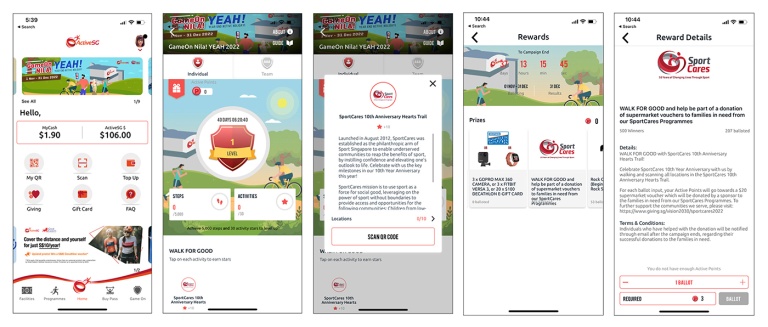 Download the ActiveSG app on your smartphone and navigate to the "Game On" icon at the bottom right corner or the "GameOn Nila!" banner at the top to join.
After registering, look for the 10th Year Anniversary Hearts Trail under "Walk for Good".
Remember to sync the app to either your handphone's steps tracker (Apple Health or Google Fit) or your wrist tracker (Fitbit, Garmin, Polar, MisFit) to clock the steps from the walk, in order to add points to your trail.
At each of the 10 locations you visit, you'll find a QR code to scan. Once you complete the trail, you earn a $20 supermarket voucher that will be donated to a family in need.
Have a question? Read more about the trail and how to ballot with your points for the supermarket vouchers to be donated here.
Want to give even more? Walk the trail as many times as you want. As you do good, you'll also be staying fit and encouraging your walking partners to get active as well!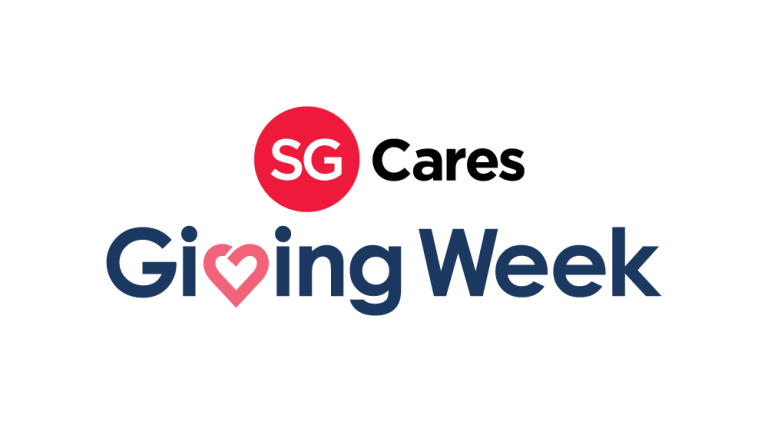 Together with the National Volunteer & Philanthropy Centre, SportCares hopes to encourage Singaporeans and Singapore residents to continue being active and giving back by supporting its community programmes and initiatives. Whether you choose to donate by embarking on the 10th Year Anniversary Hearts Trail or by giving directly at Giving.sg, you'll be making December a brighter time of the year for those in need.