Ms Aisyah Abu Bakar works extra shifts during Lunar New Year, so that her Chinese colleagues can celebrate the festive season.
(Photos by Singapore Sports Hub)
Those seeking to work off their Lunar New Year reunion dinners with a refreshing swim will be pleased to know that Singapore Sports Hub facilities like the OCBC Aquatic Centre remain open, even on public holidays. In fact, they stay open 365 days a year. This is thanks to a team of dedicated staff who take turns to work on public holidays, so that families and friends will always have a space to unwind. 
For the upcoming Lunar New Year festivities, it will mostly be non-Chinese staff like Ms Aisyah Abu Bakar, 36, and Mr Khairul Anwar, 31, who will be keeping these facilities running. As Here to Play discovers, they are more than happy to pick up the extra shift so that their Chinese colleagues can enjoy time with their loved ones. "They return the favour when it's time for Muslim holidays like Hari Raya Puasa," explains Ms Aisyah, an assistant manager at the OCBC Aquatic Centre.
"My husband is a delivery rider and he works during some public holidays too, so he is understanding of my schedule. Fortunately, we live close to my parents who help take care of our daughter," says the mother of a 19-month-old girl. "But there are definitely days when we both want to take the public holiday to just be with our child and go for a picnic."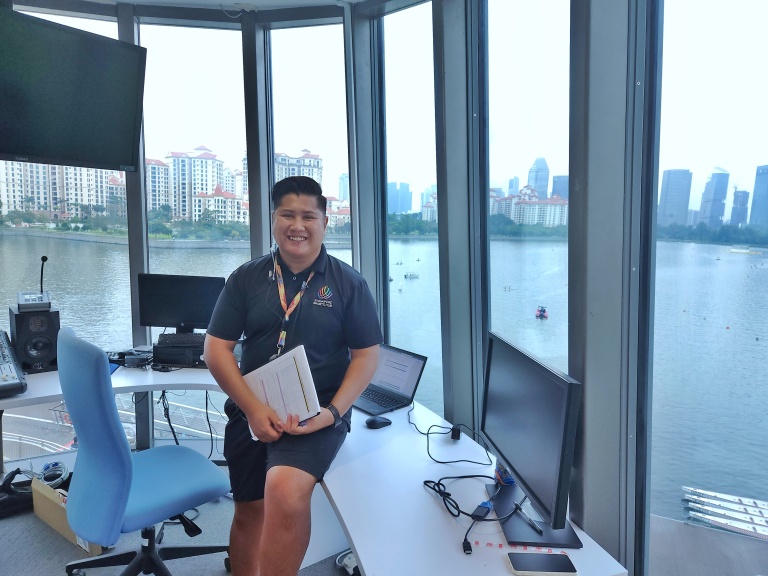 Even though Mr Khairul Anwar works on the first day of the Lunar New Year, he appreciates that his Chinese colleagues come back in the afternoon of the first or second day to take over the duties.
Mr Khairul, an assistant manager at the Water Sports Centre, echoes such feelings. "My family is sometimes upset that my shifts make it tough to spend time together. And I don't blame them because honestly, who wouldn't want to be with loved ones during a public holiday?" But he reflects, "I know that my colleagues will have my back too when I need to go off for my festive holidays. So, it's just me taking one for the team."
Ms Aisyah adds that the team's schedules are worked out in such a way that she does still enjoy some time off during a public holiday. "I'm very touched that my Chinese colleagues will still come back during the afternoon of the first or second day of Lunar New Year just so I can have some time to spend with my family," she explains. "And they often bring back snacks for me to enjoy, even making sure that these are halal."
It's not just their teammates who make it easier to come back on a public holiday: Ms Aisyah recalls talking to the many patrons who are very grateful for keeping the pool open during such periods. "So, we end up having nice conversations," she says. "I'm a people person and enjoy these interactions tremendously. It also makes me happy to see our patrons enjoying their swim on a public holiday." 
Being away from his family at times like these has also reminded Mr Khairul to be more mindful when he finally gets to be with them. And he has also learnt to look on the bright side of things. "One of the best things about working on Lunar New Year are the sunsets; for some reason, they're extra beautiful." It's a sight he looks forward to taking in later this month, after a hard day's work.
WHAT THEY DO
"I help get our patrons properly rigged up for their water sports and brief them on safety matters. I also occasionally perform rescues. Finally, I do venue and events management to ensure that the Water Sports Centre is always in a ready condition." 
Mr Khairul Anwar, Assistant Manager, Water Sports Centre
"I manage daily operations and events at the swimming pool, and also ensure that equipment is maintained and safe for use."
Ms Aisyah Abu Bakar, Assistant Manager, OCBC Aquatic Centre