Left to right: Farid Bin Baharuddin, Senior Executive, National Stadium Venue Operations; Zulya Mashuri, Senior Customer Care Officer; and Muhammed Faizul Bin Che Hussain, Cleaning Supervisor. Photo by Singapore Sports Hub.
A SPACE FOR FOSTERING CONNECTIONS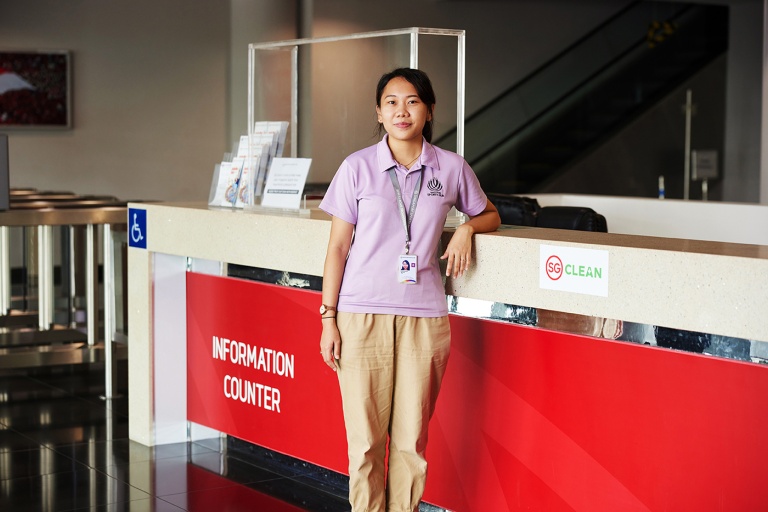 Zulya Mashuri, 27 Senior Customer Care Officer
"I've been with the Singapore Sports Hub Customer Service team for just under three years. I started on the frontline and was rotated through the different information counters at various venues across the Hub. I now manage a team of about 30 customer service officers, and working with them, ensure that our patrons are greeted with a smile and offered the assistance they need.
During this time, I've seen the ups and downs of this space, which is often in tandem with developments happening in the country. Take COVID-19, for example. I remember the days leading up to the Circuit Breaker and the months after; Singapore Sports Hub came to an absolute standstill. As someone who loves engaging people and who gets joy from seeing others happy, it was very unnerving.
But we pulled through, slowly introducing sports, entertainment and other lifestyle activities back to the community in a safe and measured way. The icing on the cake was this year's National Day when we came back stronger than ever. It was very heart-warming to see Singaporeans of all ages gathered at Singapore Sports Hub for our National Day Fiesta, watching the live telecast of the Parade and enjoying the sports-themed fringe activities. This was just after most COVID-19 restrictions had been lifted. It was great to see the space buzzing with activity again.
As we look to a new future, I believe we will continue to be an important space for Singaporeans to connect and bond through sports, entertainment and other community-centred activities. Being on the frontline, I've seen how happy people are after their weekly game or workout with friends and loved ones. I hope Singapore Sports Hub's new direction will further spread this love for physical activities and companionship.
This change is even more meaningful given recent developments in my life: I got married in 2021 and can't wait to start a family. When I do, I'm sure my husband, my children and I will join the many other families to enjoy the even richer offerings at Singapore Sports Hub."
ENSURING A CLEAN SPACE FOR ALL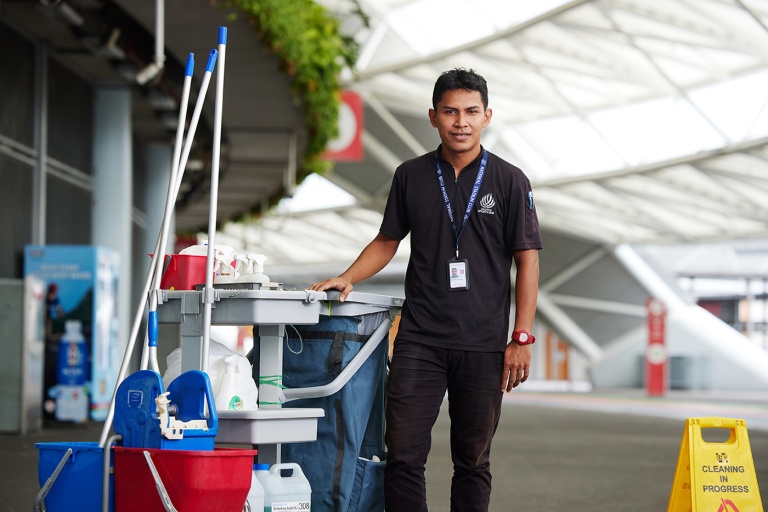 Muhammed Faizul Bin Che Hussain,30 Cleaning Supervisor
When Here to Play brought up how Japanese fans stayed behind to pick up trash after each World Cup 2022 match in Qatar (even though some of the games did not involve their national team), Singapore Sports Hub staff Muhammed Faizul Bin Che Hussain remarked, "It is heartening to hear about such acts. It goes to show how essential it is to have clean shared spaces for both users and audiences."
Keeping a place clean and tidy is something Faizul feels passionately about. As a Cleaning Supervisor at Singapore Sports Hub, he oversees a team of five cleaners to ensure the cleanliness of the National Stadium for the comfort of patrons. "It makes me happy to see the whole place spick and span, and to see our patrons enjoying this space we all truly call our own," said the 30-year-old.
Faizul has been with Singapore Sports Hub for five years and he appreciates the opportunities he has been given to make a difference in some of Singapore's largest live sports and entertainment events. Like the changes at his workplace, Faizul is also experiencing a transition on the personal front. The newlywed will be moving into his new flat in January 2023. "I just collected the keys to my unit. That's a new chapter in my life that I am really looking forward to," he said with a smile.
A SPACE FOR SPORTS TO FLOURISH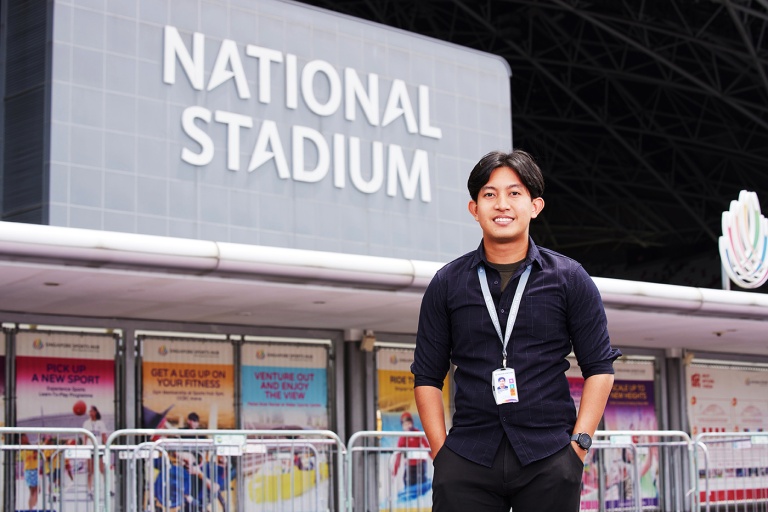 Farid Bin Baharuddin, 27 Senior Executive,National Stadium Venue Operations
Singaporeans of all ages have a connection with the old National Stadium and Farid bin Baharuddin is no different. The 27-year-old remembers watching a football friendly between Singapore and China at the iconic venue as a child and being awed by the experience. "To think that I now help run events at our state-of-the-art National Stadium…     it just blows my mind," said the Senior Executive with the National Stadium Venue Operations team.
Farid's journey with Singapore Sports Hub began seven years ago, when he was just a fresh-faced intern interested in events management. "It was very special to me to land an internship at the National Stadium because of my love for football," he shared. "When I was younger, I actually wanted to be a footballer, but that didn't pan out the way I had hoped. Still, I see my current role as a way of making other football dreams come true and raising the profile of local football." Farid does that by organising football matches and other events at the National Stadium, ensuring that they run smoothly from start to finish.
Working closely with both internal and external parties, Farid aptly balances the needs and requirements of different organisers and events. Over the years, he has run numerous concerts, as well as football friendlies and tournaments, But the ones that stood out the most were the AFF Suzuki Cup match between Indonesia and Singapore in December 2021, and the Liverpool and Crystal Palace game at the Standard Chartered Singapore Trophy 2022 event. "Seeing how joyful the fans were made all the hard work worth it," he said     .
To Farid, the change at Singapore Sports Hub will greatly benefit the development of the local sports culture. "Take football for instance. We can look forward to new partnerships with venues in the vicinity, such as the Kallang Football Hub. Such tie-ups will provide local footballers with more access to pitches and facilities for training," he said.