Mr Desmond Koh, Secretary General of the Singapore Dragon Boat Association, and his teammates from U Sports.
(Photos courtesy of Desmond Koh)
Dragon boating is an ultimate showcase of teamwork: up to 20 people on a crew, paddling in perfect synchronisation. Their long vessel slices through the water with ease, fuelled by the rhythmic beats of a drum.
The sport of dragon boating originates from the Chinese folk festival Duanwu Jie (端午节), and is also thought by some to have derived from a traditional Chinese ritual meant to appease the local water dragons. Today, dragon boat races are popular internationally, with established competition rules and procedures. In Singapore, the water sport is increasingly practiced as a hobby, co-curricular activity and corporate team-building activity.
The draw of dragon boating
Mr Desmond Koh, 50, has always enjoyed water sports. The Senior Human Resources Business Partner with a multinational company in the high-tech industry first encountered dragon boating at the NTUC Club's U Sports recruitment drive in 2007. U Sports is the sporting arm of NTUC Club. Having tried outrigger canoeing and kayaking (Desmond attained a 1-star certification for the latter), he decided to give dragon boating a go. Fifteen years on, Desmond, who is now the Secretary General of the Singapore Dragon Boat Association (SDBA), is more attached to the sport than ever.
Earlier in 2022, the U Sports team he is in participated in the Seniors Mixed category of Pesta Sukan (Festival of Sports) held at Water Sports Centre. In the lead-up to the event, Desmond and his fellow "weekend warriors" trained in the water twice weekly on Saturdays and Sundays, and once a week on land for about two months. "Other than the adrenaline rush and camaraderie between teammates, dragon boating builds resilience and perseverance," says Desmond. "The sport teaches us to overcome obstacles as a team – that there is strength in unity," he adds.
Pointing out that dragon boating is a popular team-building activity among corporations, Desmond says, "Strength, endurance, flexibility and teamwork are necessary for dragon boating, but beyond the physical strength, mental strength is equally important. It's not all about whoever is physically the strongest, wins. It's about teamwork and most importantly, the attitude and mindset."
Why? "It is essential to work well with others," explains Mr Koh. "As a rower, you need to be humble to accept all sorts of advice in the spirit of doing better, while a coach needs both technical skills and leadership qualities to impart good knowledge of the sport so that the team is successful in achieving their goals."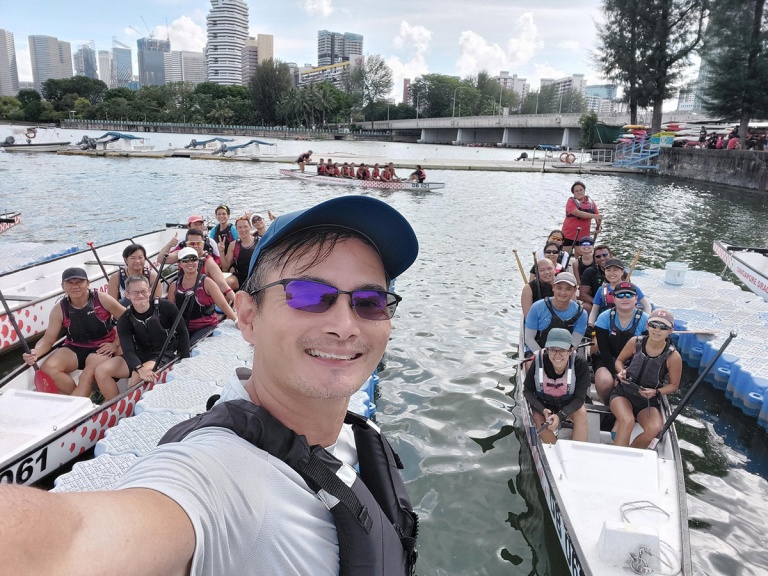 Desmond Koh and his teammates train at Water Sports Centre.
A sport for all
On shore, dragon boating offers numerous opportunities to develop one's personal and professional skillset. In addition to being involved in SDBA, Desmond is a steer coach and is involved in dragon boating initiatives that promote inclusivity.
Working with SDBA and Singapore Sports Hub, he and several others organised an inclusive boat race in March 2017, with unique categories such as active agers, cancer survivors, people with disabilities and youth at risk. "This is an important step forward to ensure that everyone is treated equally and given equal opportunity to do what we like, regardless of our different abilities," he says. "I hope there will be greater awareness and acceptance of people who may be different from us, and that dragon boating can bring colour to their lives."
Looking back at his dragon boating journey, Desmond says that the sport has enriched him beyond strengthening his physique. "I've widened my horizons, made many friends and developed a wide network, as well as gained many learnings, from the fundamentals of dragon boating to project managing a race event. At this stage, I am actively involved in making a big difference to people's lives by taking the sport to another level with inclusive elements."
Desmond believes that as the COVID-19 pandemic tapers off, more people will take up dragon boating, adding to the estimated 10,000-strong community in Singapore. To attract more newbies – including children and youth – Desmond says that SDBA is carrying out greater community outreach, such as raising awareness of the sport's safety framework to allay any concerns.
Desmond also highlights that more pathways to dragon boating are available, compared to the past. One popular way to begin dragon boating is to join the Dragon Boat Orientation Programme at Water Sports Centre, which offers participants a chance to pick up basic paddling skills and equipment access. The two-hour programme is suitable for anyone aged nine and above, making it a fun family activity.
For those keen on taking up the paddle, Desmond has the following advice: "You only live once, so just give yourself and the sport an opportunity – you will grow to love dragon boating! Find a few like-minded friends, come for a try-out and your network of good friends will grow wider and deeper. We even have dragon boaters who found their life partners here while enjoying the sport!"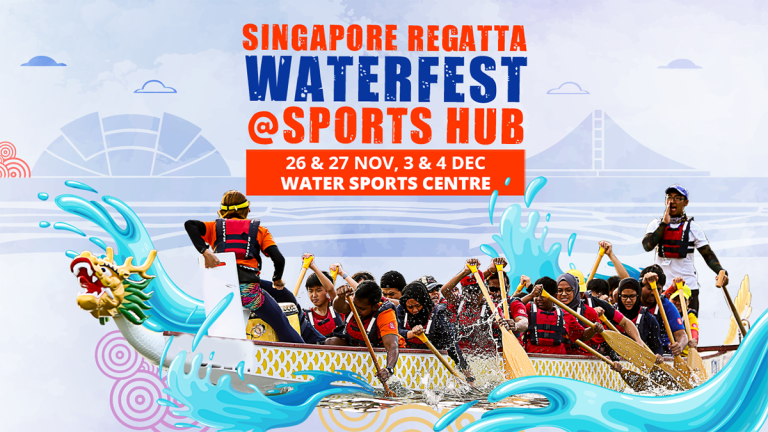 If you would like to experience the thrill of dragon boating, try the sport at Water Sports Centre; or cheer on the various dragon boat teams at Singapore Regatta Waterfest @ Sports Hub, which takes place at Water Sports Centre on 26 to 27 November and 3 and 4 December 2022.
Fun facts about dragon boating
According to some historians, dragon boats were actually in use long before the first celebration of Duanwu Ji Certain accounts claim that farmers who wanted blessings from water dragons were the first to decorate boats with dragon carvings, while others say that dragon boats were once used in warfare.
Dragon boats are speedy vessels and the popularity of the sport has extended beyond its Chinese roots. Top dragon boat crews can paddle over 20 km per hour, often at events like the International Dragon Boat Federation's Club Crew World Championships and World Dragon Boat Racing Championships.
Dragon boating also makes for a relaxing hobby. There are a number of dragon boat crews in Singapore with a common background, such as the American Dragons Singapore, Paddlers Against Limits, and the Breast Cancer Foundation's Paddlers in the Pink, a team comprising breast cancer survivors and supporters.