Singapore Sports Hub will enter a new phase from 9 December 2022 when Sport Singapore (SportSG) takes over the project and hands it over to the Kallang Alive Sport Management (KASM) to manage. This will allow Singapore Sports Hub to be more closely integrated with the upcoming Kallang Alive precinct sporting facilities such as the Kallang Tennis Centre, Youth Hub and Kallang Football Hub. More importantly, it will unlock Singapore Sports Hub's full potential as a community icon where Singaporeans can enjoy quality live offerings, engage in sports and exercise, and unwind and connect with others.
With this robust change, Singapore Sports Hub will evolve into an even more inclusive, accessible and community-focused venue, where young and old, families and individuals, professional athletes and weekend warriors are all welcome.
At the same time, things will get livelier. From world-class performances to premier sporting events, Singapore Sports Hub will continue to host top-tier talents, putting the nation on the global map – and providing Singaporeans with quality entertainment.
LIVE AND DIRECT
To usher in this new chapter, Singapore Sports Hub is offering a full calendar packed with inclusive, family-friendly activities in the month of December. Here are some highlights you shouldn't miss.
COME JOIN US ON 9 TO 11 DECEMBER!
Celebrate a new chapter in the Singapore Sports Hub story with these exciting experiences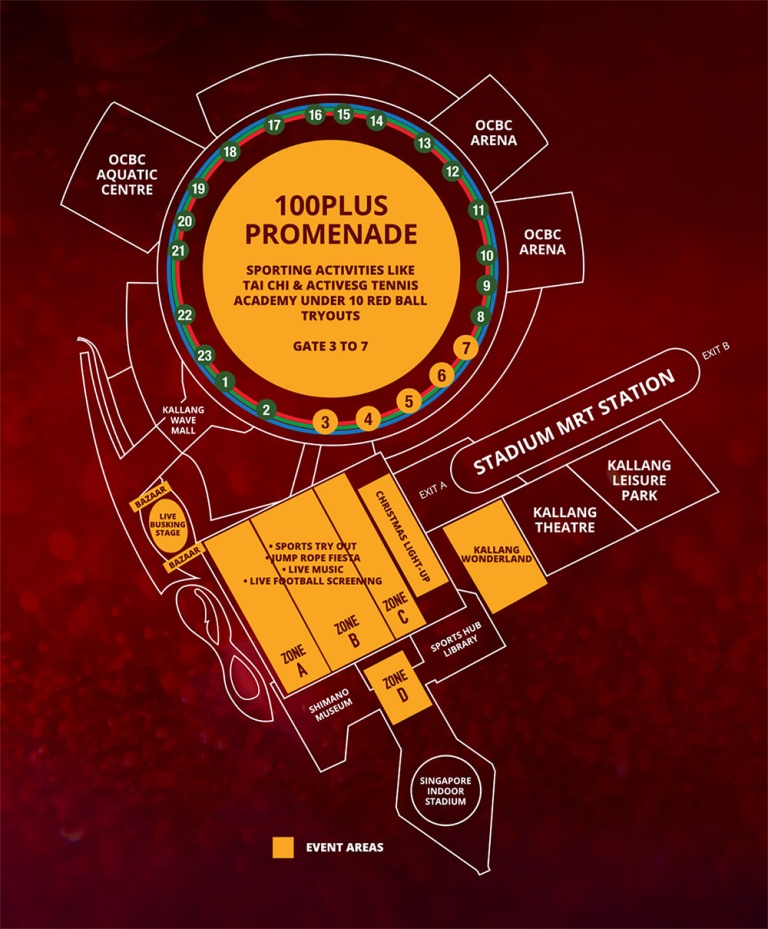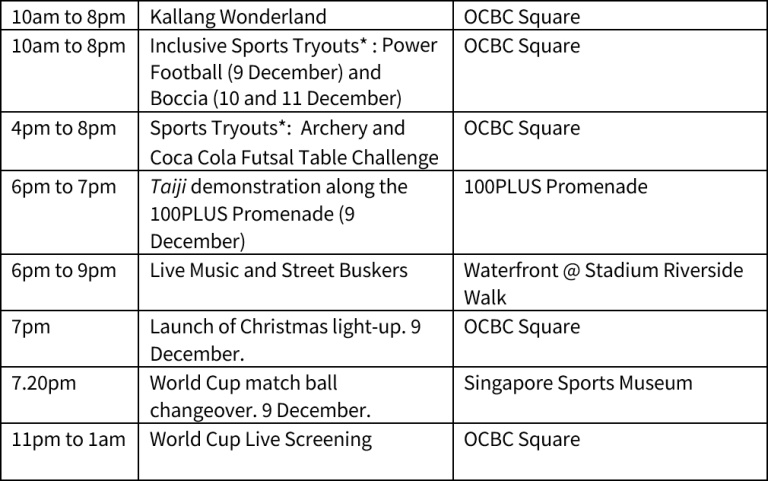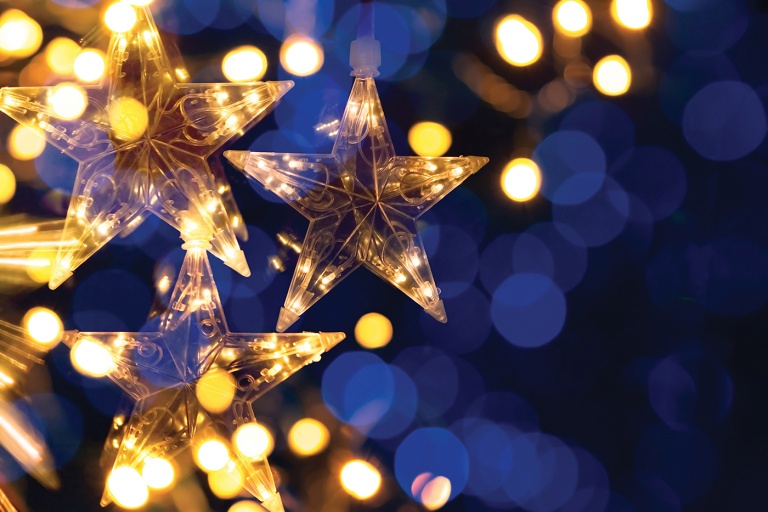 Live Festivities
It's the year-end festive season once more, and Singapore Sports Hub wants you to experience a magical Christmas. From 9 to 31 December, marvel at the enchanting festive light-up all around the Hub. There will also be a Kallang Wonderland carnival with rides and games for all ages. To learn more about the Christmas festivities at Singapore Sports Hub, click here.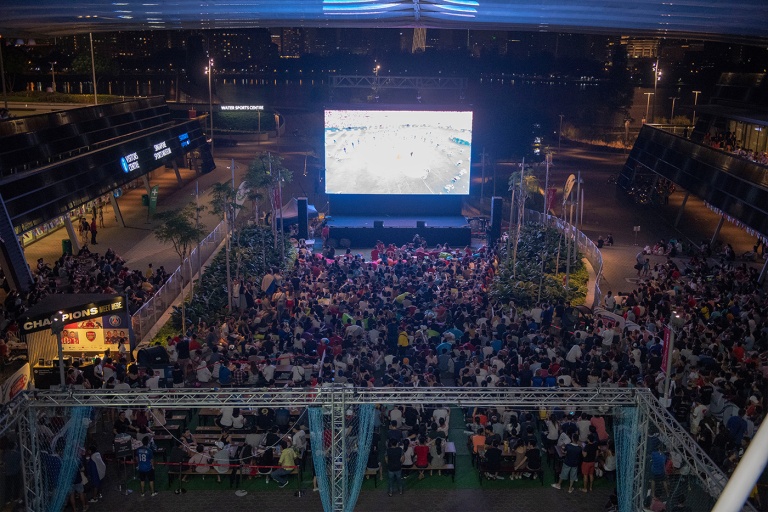 Live Football Screening
The most exciting matches of the World Cup 2022 will be screened live at OCBC Square from 9 to 18 December. Watch the quarter-, semi- and finals at Singapore Sports Hub alongside fellow fans – with bonus half-time entertainment, contests and prizes to be won and more. Click here for the screening schedule.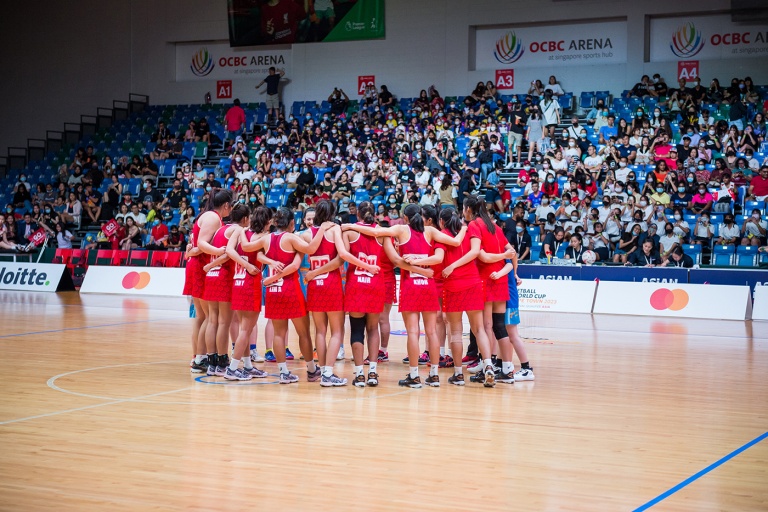 Live Sports
Sports fans have plenty to look forward to this December.
Between 4 and 10 December, support the Singapore A-team and Singapore Opens team at the country's biggest netball tournament, the Nations Cup 2022. Prefer volleyball? From 13 to 15 December, the ActiveSG Volleyball Cup features not one, but three tournaments for various age groups. For a rolling, leaping and spinning good time, check out the Singapore International Rhythmic Gymnastics Cup 2022, from 16 to 18 December.
The school holidays are a great opportunity to keep fit and bond with the family. Brought to you by Active Parents, FunFam SportFest 2022 on 17 December features parent-child sporting activities, such as a dance fitness party and sport tryouts. Register here.
On 9 December, participants display their moves at a mass taiji workout. Aspiring tennis stars will not want to miss the ActiveSG Tennis Academy Under 10 Red Ball Try-outs on the same day. Held outside Gate 3, the fun-filled session is open to children aged five to 10 years old. The ActiveSG Tennis Academy-Singapore Tennis Association (ATA-STA) Competition U10 Red 2022 runs from 10 to 11 December. To ensure that the sport is accessible to all kids under 10 years old, the event uses modified balls, which are 25 per cent slower.
In collaboration with the Basketball Association of Singapore and SportSG, Singapore Sports Hub will be running the 3×3 Basketball Cup 2022, leading up to the International Basketball Federation (FIBA) 3X3 Asia Cup 2023 in March. Taking place on 10 and 11, 13 to 15 and 17 December, the 3×3 Basketball Cup 2022 offers a friendly and competitive game environment for both youth and adults.
From 9 to 11 December, take part in inclusive sport tryouts and demonstrations at sessions conducted by the Singapore Disability Sports Council.
Sports Hub Beach Volleyball Court
Catch the Revollve Games Tournament over the December weekends.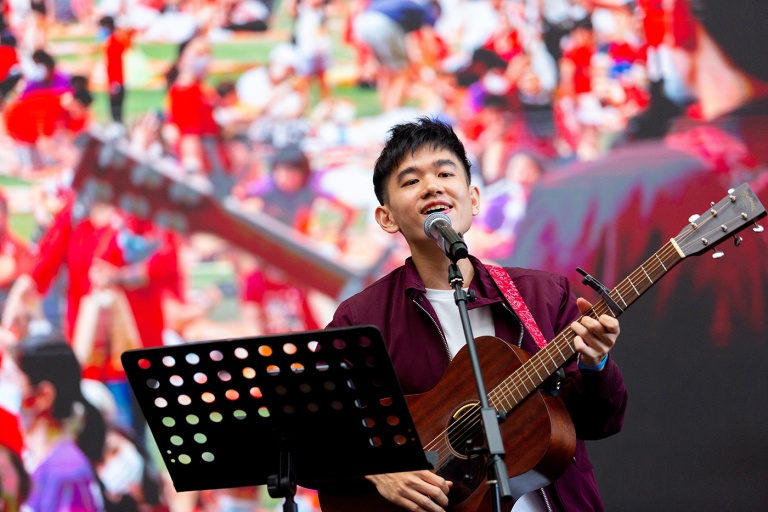 Live Music
Who doesn't love a good show? Besides concerts by top international acts this December, you can also enjoy live performances by rising talents and street buskers.
On 9 and 10 December, get your groove on as Singapore Sports Hub celebrates the talents of our youth with the Dance Takeover showcase. Expect exhilarating performances and get ready to move to your favourite K-pop hits at the K-pop Random Play Dance segment.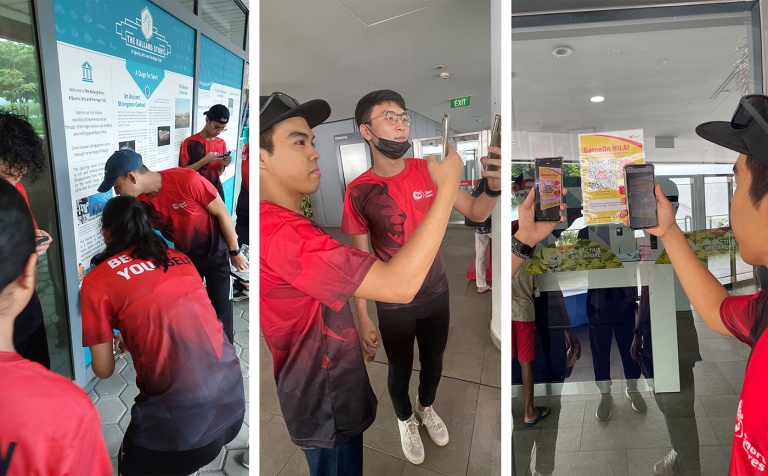 Live Season of Giving
From now till 31 December, do some good by taking a walk around the neighbourhood with SportSG's SportCares 10th Year Anniversary Hearts Trail. Upon completing the trail, participants earn supermarket vouchers that they can donate to beneficiaries under SportCares' programmes. Click here to read more.
There's also the A Day to Remember Carnival, taking place on 10 December at OCBC Arena. Organised by youth in the SportCares Champions Leadership Programme, this event aims to provide seniors with dementia and their caregivers with a safe space for meaningful social interaction and shared positive memories. There will be modified sports, traditional games and special performances put together by SportCares Champions and seniors.
For a comprehensive line-up of events and activities taking place at Singapore Sports Hub throughout December, click here.
WHAT TO EXPECT IN THE YEAR AHEAD
What more can you look forward to at Singapore Sports Hub?
Look out for world-class and international athlete performances at live sporting events. Be wowed by sheer physical prowess, amazing teamwork and strategy, and winning displays of sportsmanship.
Prepare for a livelier Singapore Sports Hub, with myriad entertainment options including concerts and theatrical showcases.
Get ready for more exciting cultural celebrations of festivals with activities for all age groups.
The change starts now and we welcome all to the new Singapore Sports Hub experience!